If you are lucky enough to have a pink rose quartz, you're probably here because you want to know how to meditate with it…
You can meditate with rose quartz in 3 ways: using affirmations to ask for what you need; placing rose quartz crystals around you while you are in a seated position to create an energy field of joy; or by holding the crystal to your heart chakra as you bring yourself into a deep state of relaxation.
The truth is that there are many different ways to meditate with rose quartz, depending on the number of crystals you have, what you need, how much time you have to meditate, what makes you feel closest to the quartz, and how connected you already are to your crystal.
By the end of this post, you'll have a simple, step-by-step method to connect with and meditate with your rose quartz crystal.
Rose quartz is the stone of love, companionship, and true friendship. You can meditate with this beautiful crystal whenever you're feeling lonely, abandoned, isolated, or friendless. Regardless of what you need, it's always best to meditate with rose quartz regularly.
If you can, meditate with your rose quartz at least once or twice a week, no matter how in love or lonely and discouraged you might feel. Regular connection with this stone will build a strong bond between you and the crystal, and bring you greater benefits over time than only using the crystal when you really need it.
How to meditate with rose quartz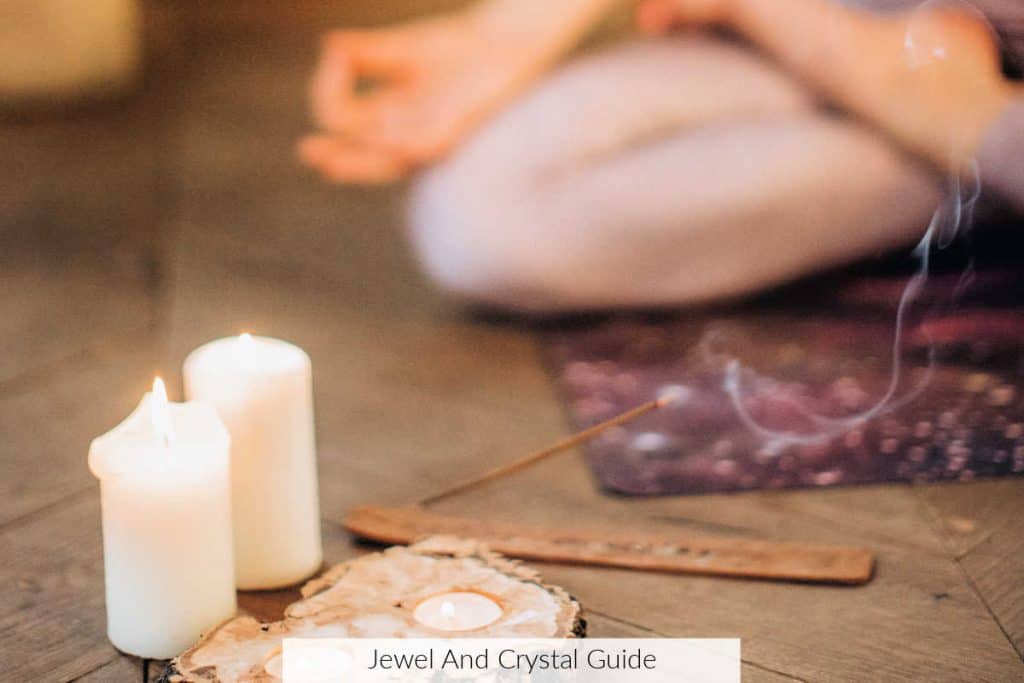 ---
Below is a simple, calming meditation. Feel free to use this method or adapt it to meet your own needs. Your intuition will guide you and tell you what to do, if you are willing to listen.
Set your intention
Start by setting your intention for the meditation. What do you need most from the crystal right now?
Here are some ideas on what to ask from a rose quartz crystal:
Love
Healing
Happiness
Fertility
Vitality
Friendship
Inner peace
Protection
Deep sleep
Comfort when you are grieving a loss of any kind
Click here for a list of affirmations and ideas that you can use to set your intention for the meditation to come.
Examine the stone
Now try to get your senses involved with the crystal so you can form an active connection with it during the meditation (you'll see how we do this in a little bit).
Take a good look at the rose quartz while holding it up in the air and turning it around. Notice the color, shape, swirls, stains, or anything else unique about your stone.
Feel the entire crystal with your hands and smell it.
This is an important step in the crystal meditation and it's best never to skip this part of the process, even if you always use the same crystal in your meditation.
You'll want to use a real rose quartz for your meditation. Click here to find out how to tell if a rose quartz crystal is real or fake.
Get comfortable and place the rose quartz on your heart
Lie down somewhere comfortable, where you won't be interrupted. Wear warm clothes and cover yourself with a blanket if the air is chilly.
Rose quartz is an important crystal for the heart chakra. Place your quartz in the center of your chest, on your breastbone (sternum), as this is where your heart chakra lies. Doing so opens your heart and lets the energy of your crystal do its important work.
Try putting the rose quartz under your clothes, directly on your skin, so you can feel the crystal throughout the meditation.
Take three deep breaths
Close your eyes and relax your body. Take three deep, slow breaths, counting in for five and out for five.
Try to breathe in and out with your tummy. If your chest moves too much and your crystal moves around, gently hold the crystal in place with your non-dominant hand (if you're right-handed use your left hand and vice versa). This is the hand we use when we ask for blessings and want to receive gifts from our crystals.
See the crystal in your mind's eye
Picture the crystal in your mind's eye. Try to see it as clearly as you can, in a three-dimensional view, floating gently in the space in front of your face. Remember the shape, feel, colors, markings, smell, and anything else you can about the stone.
The purpose of this exercise is to open your connection and communication with the crystal, and to forget about everything around you and any worries you might have. It also prepares the crystal to hear what you want to ask for.
True connection with a crystal often takes time and practice, so don't give up if you struggle the first few times.
The more often you try to connect with your crystal, the easier it will become to recognize the feeling of a live connection. Some people feel a warmth in the center of their chest (the heart chakra) or see a white light shining out from their chest area.
Tell the crystal what you seek
Once you feel you've connected with the stone in the calm realm of meditation, ask the crystal to bring you what you need. You can either ask silently in your mind or speak it out loud.
Ask at least three times, and be very clear and specific about what you want. Do not ask the rose quartz to take something away, but rather ask it to bring you something.
For example, don't ask for a demanding family member to be removed from your life. Ask for the relationship to become a peaceful one. Don't ask for loathing or grief to be taken away. Ask for love to fill your being.
You can ask as many times as you need to ask, but ask only for one thing per meditation. If you ask for more gifts, you are "diluting" the request and you aren't likely to get the results you want.
Let your intuition guide you and stop when you feel you've asked enough times.
Thank the crystal
There is power in gratitude, and the rose quartz needs powerful energy to help you.
So help your rose quartz help you by showing it gratitude. You can do this by whispering the words "Thank you", and feeling true and absolute gratitude with your entire body. Stay in this bubble of thankfulness until you're ready to wake up from it.  
Now slowly open your eyes and rise.
Sleep with the crystal
If you want to intensify the properties of your rose quartz, try sleeping with the crystal under your pillow, inside the pillow case.
Click here to find out why you should be sleeping with your rose quartz nearby and how to do it.
If you don't want to sleep with it in your room, click here for ideas on where to keep your rose quartz that you've probably never thought of.