Want to know HOW to cleanse and clear your crystals using the four elements in nature and WHY they have such a powerful bond? Sign up for our weekly newsletter and we'll send you a link to download our PDF: Cleansing Crystals And The Secrets Of The Four Elements.
In this PDF, you'll uncover why crystals and the four natural elements share an unbreakable bond, how to use the elements to clear and cleanse your crystals quickly and easily, and what elements different crystals are associated with along with the properties of their energies.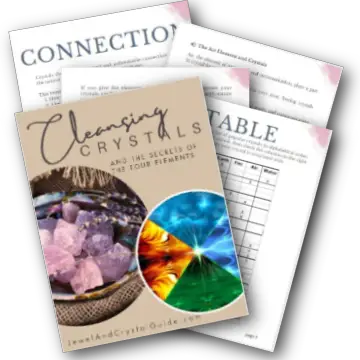 Plus, you'll get the password to enter our resource library, where you'll find many other downloadable crystal printables – all free for our subscribers!
Here's what you can expect as a Jewel And Crystal Guide subscriber:
Welcome email with the password to the resource library, where you'll find Cleansing Crystals And The Secrets Of The Four Elements
Access to all the other printables in the library (free)
Weekly emails with crystal news and resources to give you the facts and uncover the mysteries of crystals