Tiger's eye is a stone for power, passion, protection, and prosperity, all of which you can attract with affirmations. Holding a tiger's eye crystal in your hand, closing your eyes, and saying affirmations attracts both what you want and need in your life.
This is why I've put together the following list of 193 things to say to tiger's eye…
By the end of this post, you'll know exactly what to say to tiger's eye for:
Abundance and wealth
Activating your tiger's eye
Anxiety
Boosting your business
Confidence
Family
Fertility and children
Friends
Good luck
Healing
Love
Overcoming grief and loss
Reaching your full potential
Protection
The planet
Travel and vacations
Tiger's eye affirmations for abundance and wealth
I use this crystal to generate opportunities
Open my eyes to opportunities before me
I ask for more [what you want more of]
I breathe in prosperity and breathe out poverty
I have more than I need
I attract wealth and wealth attracts me
I am good with money
There is plenty for everyone
I have the resources to make my dreams come true
My bank account grows every day
Light up my finances [money / shares / investments – you can be specific if you want]
I am abundant
I am rich
I know riches await me
Affirmations to activate a tiger's eye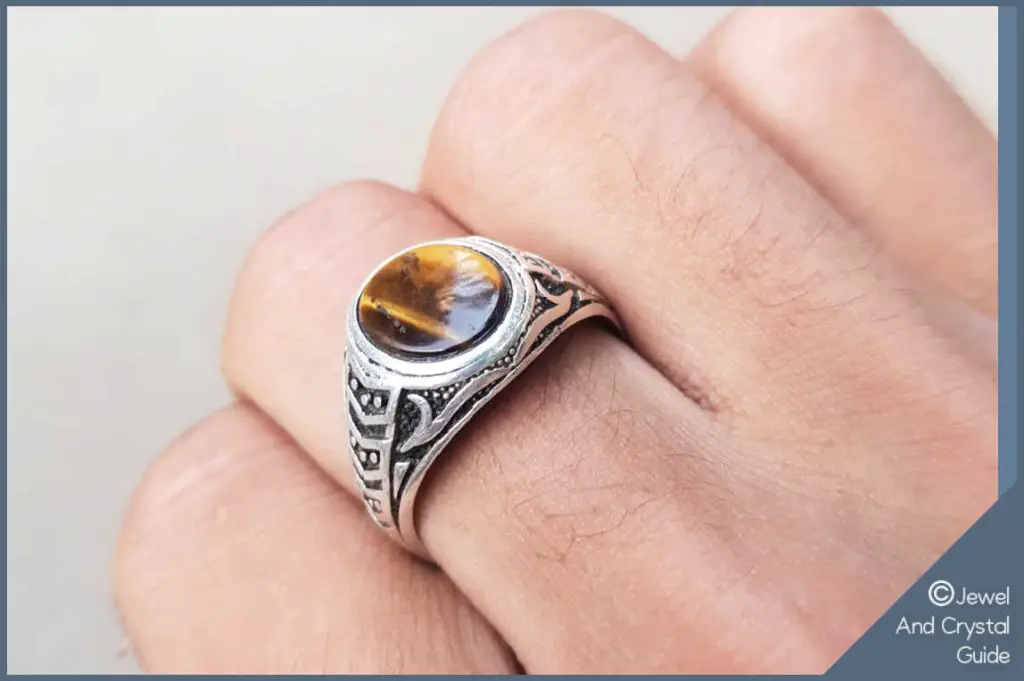 You are cleansed and vibrant with new energy
It's time to show me what you can do
You were created for greatness
Wake up, tiger's eye
Begin to show your greatness
This crystal is alive and well
Let light shine on this crystal and wake her up
We are connected
Our future has begun
Let out the old and bring in the new
When I see you, I feel your power
I recognize you
Let love bind us and serve us well
I feel this crystal stirring
Wake up, rise, and bloom
Welcome to my crystalverse
Tiger's eye affirmations for anxiety
You calm me down
I know that I can handle this
This universe does things for me, not to me
Things are coming together for me, even if I can't see it now
I am at peace
In with calm and out with worry
What can I give myself right now that's healthy and soothing?
I ask for bliss
I enjoy the small things in life
When I look for it, I find joy
I deserve to be happy
Tiger's eye affirmations for boosting business
Business is booming
I am successful
Bring me clients
Brind me sales
My perfect client is …
Guide me to make better business decisions
Show me where to go next
My hard work pays off
My business is profitable
Let me see the bigger picture
I learn from my mistakes and grow stronger every day
My business gives me [what you want e.g. freedom, fulfillment, growth]
My business brings in $___________ every month
Find me the right mentor
Tiger's eye affirmations for confidence
I trust myself
I believe I can do anything I put my mind to
If I don't know something, I ask and find out
The universe supports me
The eye of the tiger is with me
I am not scared
I build my confidence daily
The more things I do that scare me, the easier all things become
I have people to ask for help when I need it
I know who I am
Reassure me
I'm not afraid to make mistakes
I'm feel secure inside, no matter what's going on outside
I focus on my lane and nobody else's
Tiger's eye affirmations for family
Protect my family
Bring my family [what you want for your family e.g. peace, healing, helping a certain family member]
My family is happy
This stone heals the past
This stone brings a bright future
My family is resilient
There is great love in this home
We support each other
My family is my happy place
I feel appreciated
Family is a strong foundation
I respect individuals for who they are
Stop the fighting
I do things that make this family better / stronger / happier
We are safe and secure
We get through things together
Tiger's eye affirmations for fertility and children
Bring warm light to my belly
I am fertile
I trust your timing
Protect my children / partner / husband / wife
Bless my child with [the one thing you wish most for child today]
I ask for a healthy baby
I want to experience motherhood
Create new life
Bring [success / wealth / happiness / healing] to my child on his / her birthday
I see my family growing in love
Guide me to be a better mother / father
Tiger's eye affirmations for friends
My friends support me
I am my own best friend
I am a friend to others
I help others make their dreams come true
I ask for help when I need it
Bring my friends [joy / healing / wealth / success]
Send light and strength to [friend's name]
Remind me who is important in my life
This crystal attracts the right people in my life
This crystal removes the wrong people from my circle
I find peace in my friendships
I am never alone
This crystal brings great gifts to the people I love
Tiger's eye affirmations for good luck
Be my lucky charm
Bring me good luck every day, in every way
Make this my lucky day
The universe surprises me with good things
Doors open for me
I see opportunities where others don't
Things work out for me
I'm the hero in this story
I know I'm lucky
Timing is everything
Tiger's eye affirmations for healing
I am better
My [body part] is healed
I want to experience optimum health
I live a healthy lifestyle
My body is alive and well
I [insert a good habit here e.g. drink enough water / exercise daily]
My health is restored
I'm on a healing journey
Wellness is mine
My mind and body are relaxed
Heal me
Bring me the information I need to get better
Tiger's eye affirmations for love
True love is mine
Make this wedding and life together all it can be
Protect our union
Send me the right person
As I love myself, I love others
My heart is calm and open
Bless this partnership
I deserve to be loved
I give love and I receive love
In with love, out with hate
I'm lucky in love
Light me up and give me my spark back
Tiger's eye affirmations to overcome grief and loss
Let time heal me and help me flourish. It's why I'm here
I can get through this
Bless my heart with peace
I accept what's no longer here and embrace what is
I let you go into the light
What do I need to give myself right now?
Healing has already begun
I acknowledge the loss I feel
I love you [your name] and I'm here for you
Restore. Rebuild. Recover
Tiger's eye affirmations for reaching your full potential
I am made for greater things
Take me past my own limits
Show me what's possible
Open my eyes and my mind
My cup flows over
If I could do anything, I'd [say what you would do if you had no limits]
To infinity and beyond
My word for the day is: limitless
I let myself imagine what could be
I make my dreams come true
Setbacks are simply turning points
Tiger's eye affirmations for protection
Shield me with your light
Your power protects me
Nothing can hurt me
I am defended
I am safe
The universe watches out for me
I cast off what is not good for me
I am stronger
This is my safe haven
Keep me from danger
Tiger's eye affirmations for the planet
Bless this earth and all life on it
Breathe vitality into the soil beneath my feet
Peace be with us all
Remind us that the answer is always love
I feel your heart vibrating through me
You thrive mother earth
Help me make this world a better place
Show me how I can help
Tiger's eye affirmations for travel and vacations
Bless this journey
Bring me adventure
Make these travels safe
May all things run smoothly
I ask for a journey that fills my soul
I want [peace / joy / adventure] from this trip
Help me find a way to travel
Help me get to [name of the city or town you want to visit]
Give me comfort when I get scared
This stone brings me home
Show me where to go next
For more information about tiger's eye, here's my guide with everything you need to know about this crystal.