Amber calms, protects, and grounds. Its warm energy gives a sense of comfort and stability, especially in times of stress or uncertainty. Anyone can wear amber that's looking for protection, more energy, and harmony in their life.
While we can all wear amber, Taurus, Scorpio, and Pisces are believed to benefit most from this fossilized gemstone because of their astrological properties and what amber brings.
The good news is that amber isn't held solely for these signs – below is a list of all the zodiac signs and why each sign should wear amber, so you can make the best decision for yourself and your sign.
In this article, you'll find out why each zodiac sign should wear amber and why.
Aries (March 21 – April 19)
Aries is a fire sign known for being passionate, impulsive, and courageous.
While their boldness can sometimes lead to rash decisions, amber grounds Aries and provides a greater sense of clarity. The warm, fiery energy of amber also enhances their natural confidence and enthusiasm.
Taurus (April 20 – May 20)
Taurus is an earth sign known for being practical, reliable, and patient, but their inflexibility can sometimes hold them back from trying new things.
Amber helps Taurus let go of their rigidity and embrace change. The grounding energy of amber can also help Taurus feel more centered and balanced.
Amber is not officially recognized as a birthstone by the American Gem Society or the Gemological Institute of America, but it is sometimes associated with the zodiac sign Taurus.
Gemini (May 21 – June 20)
Gemini is an air sign that's curious, adaptable, and communicative; however, their tendency to overthink things can sometimes lead to indecisiveness.
Amber helps Gemini trust their intuition and make decisions easier. Amber's calming energy also helps Gemini feel more relaxed and less scattered.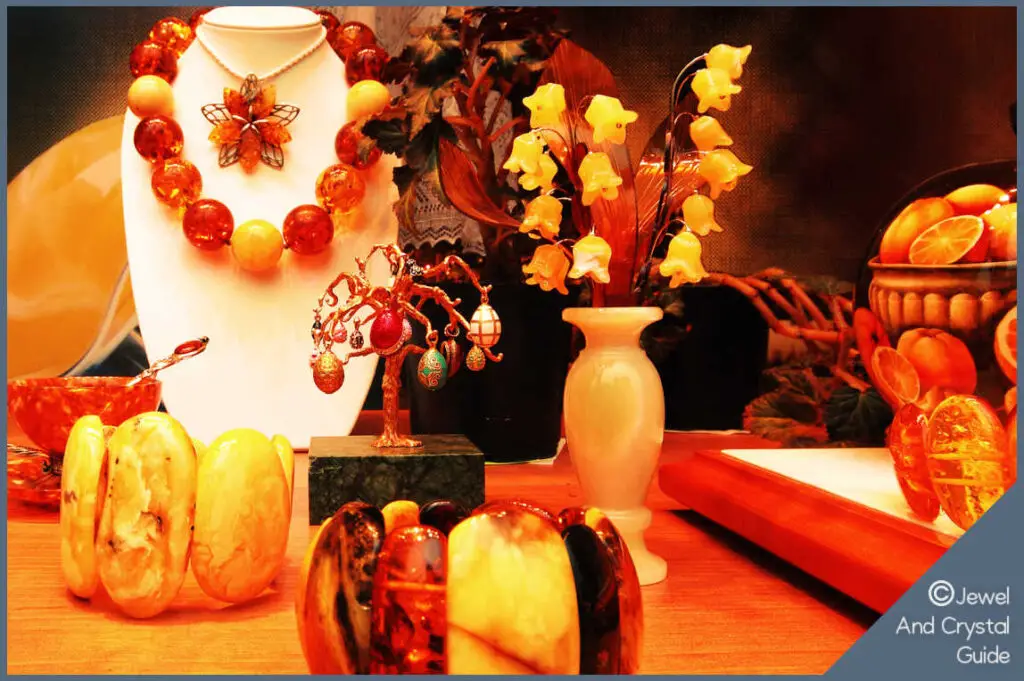 ---
Cancer (June 21 – July 22)
Cancer is a water sign that's famous for being emotional, nurturing, and intuitive. But their sensitivity can sometimes make them feel overwhelmed.
Amber helps Cancer release emotional blockages and feel more grounded. The protective energy of the stone also helps Cancer establish healthy boundaries.
Leo (July 23 – August 22)
Leo, a fire sign, is confident, generous, and creative, but Leo often struggles with their ego, which can sometimes get in the way of personal and business relationships.
Amber helps Leo let go of their need for validation and connect with others on a deeper level. The warm, energizing energy of amber gems also enhances a Leo's natural charisma.
Virgo (August 23 – September 22)
Virgo is known for being analytical, organized, and detail-oriented as an earth sign. However, their perfectionism can sometimes give them anxiety.
Amber helps Virgo release their need for control and embrace imperfection. The grounding energy of amber also helps Virgo feel more relaxed and less stressed.
Libra (September 23 – October 22)
Libra is an air sign known for being balanced, diplomatic, and artistic, but indecisiveness can hold them back from taking action and getting things done.
Amber can help Libra trust their intuition and make choices with more confidence. The warm, harmonizing energy of amber also enhances Libra's natural sense of beauty.
Scorpio (October 23 – November 21)
Scorpio, a water sign, is intense, passionate, and secretive. But their desire for control sometimes leads to power struggles within themselves and often with others.
Amber can help Scorpio let go of their need for dominance and be brave enough to feel vulnerable when necessary, which helps Scorpio grow. The protective energy of amber also helps Scorpio feel more secure and less defensive.
Sagittarius (November 22 – December 21)
Sagittarius is known for being adventurous, optimistic, and philosophical as a fire sign. But they are often restless, which can make them feel unsettled and all over the place.
Amber helps Sagittarius stay grounded and focused on their goals. The warm, expansive energy of the stone also enhances their natural sense of curiosity.
Capricorn (December 22 – January 19)
Capricorn is an earth sign that's known for being responsible, disciplined, and ambitious, but a fear of failure sometimes holds them back from taking risks.
Amber helps Capricorn release their need for control and be more willing to go into unchartered territory, even if they don't know what might happen. The grounding energy of amber also helps Capricorn feel more connected and stable.
Aquarius (January 20 – February 18)
Aquarius is known for being innovative, independent, and humanitarian as an air sign. However, their cool detachment can make them feel disconnected from others.
Amber helps Aquarius connect with their emotions and establish deeper connections with other people, at home and at work. The warm, energizing energy of amber enhances the natural sense of creativity that Aquarius enjoys expressing.
Pisces (February 19 – March 20)
Pisces is a water sign recognized for being empathetic, spiritual, and creative, but their tendency to want to escape reality often leads to feelings of confusion or being overwhelmed.
Amber helps Pisces stay grounded in the present moment and connect with their inner strength. The protective energy of amber also helps Pisces set and keep healthy boundaries, and avoid absorbing negative energies from others.
If you want to know more about amber, here's my guide with everything you need to know about this fossil gemstone.