Amber is a wonderful and popular scent in diffusers, massage therapy, perfumes, many body care products, and even in candles and soaps.
But what does amber smell like?
Amber is a warm base note that's musky and luxurious. It's often combined with hints of caramel, vanilla, honey, florals, or spices, which all work well. Amber's woody scent is also sensual, sophisticated, and mysterious, carrying you back to a secret subtropical evening long forgotten.
This is because an amber scent is based on real amber, a golden fossil from subtropical tree resin that fell to the ground many millions of years ago.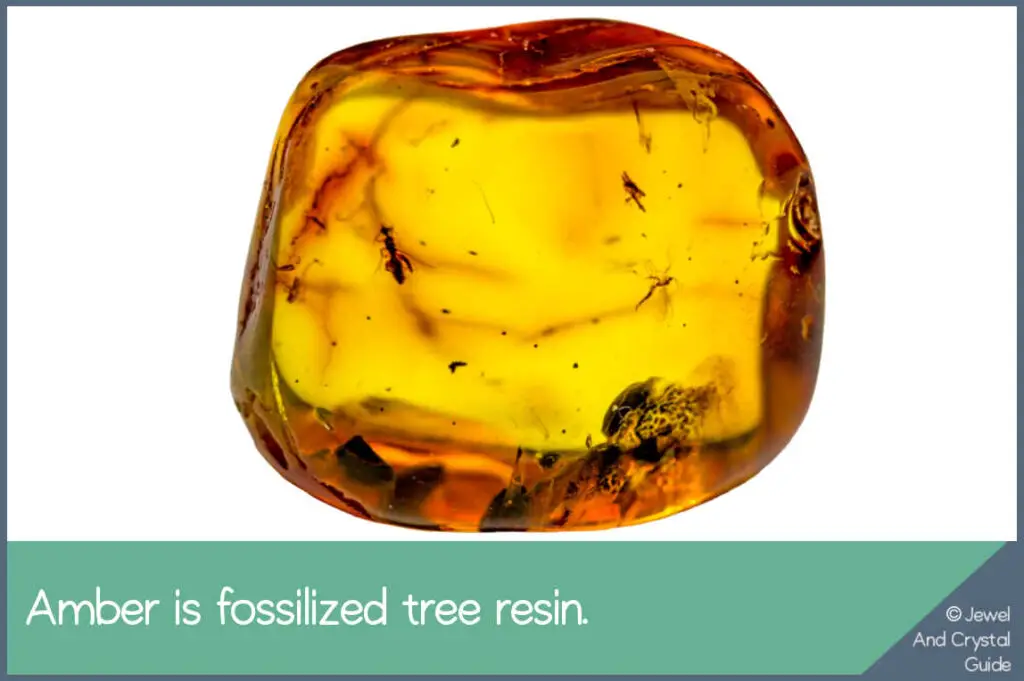 ---
In this post, you'll discover:
What amber smells like
What amber is in perfume
What amber scent is made from
Whether amber is masculine or feminine
If there's an amber essential oil
7 benefits of the amber scent
Some words that people use to describe the smell of amber are:
Rich and luxurious
Golden
Woody, balsamic, and sweet
Warm
Sensual
Sophisticated
Comforting and cozy
Deep
Enigmatic
Of course, the final aroma depends on what ingredients are used to create the amber scent, their quality, and if it's mixed with other scents.
Here's my full guide to amber, where you'll learn everything you need to know.
What amber is in perfume
In perfume, the name amber describes a scent with a rich, warm, woody base note. There's often a top or heart note of sweetness, such as caramel, vanilla, honey, or toffee. Other perfumeries use spices with amber, to create warm, sensual fragrances.
Amber scent is not made from real amber, but it does mimic the smell of natural amber from the ground. Other essential oils or synthetic ingredients must be used to create a consistent and stable amber scent for perfumes and oils.
Here's why…
When heated or rubbed, amber releases a very faint and subtle aroma that is resinous, woody, and slightly sweet. As a natural and ancient material, the scent of amber depends on its age, origin, and what was in the resin before it fossilized.
Here's how real amber was created and why every piece of amber is different.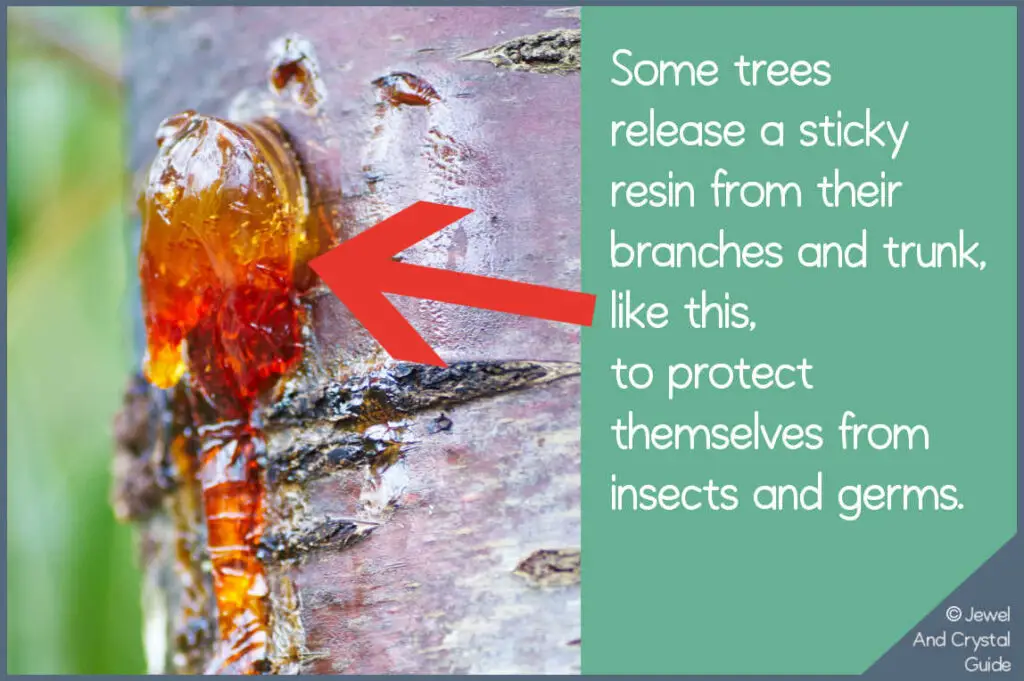 ---
Amber's natural scent is so delicate that it can be difficult to detect, unless amber is heated or rubbed, and its scent can also be unpredictable, so real amber is not typically used as a fragrance ingredient in perfumes (we'll talk about essential oils in a bit).
The scent of amber can be made with various compounds and ingredients, so there is no standard formula or recipe to recreate an amber scent. It's up to the perfumer or creator to combine ingredients in a way that reveals their insight and interpretation of natural amber in a bottle.
What amber scent is made from
Some common ingredients and notes that are often used to recreate the smell of amber include:
Benzoin
Benzoin is a resin that has a sweet and balsamic aroma, often used as a base note in amber fragrances.
Labdanum
Labdanum is a resin derived from the rockrose plant and has a warm, balsamic, and slightly leathery aroma. It is a key ingredient in many amber fragrances.
Vanilla
Vanilla has a sweet, creamy, and comforting aroma, and is often used to add richness and sweetness to amber fragrances.
Styrax
Styrax is a resin that has a warm and balsamic aroma, often used to add a touch of sweetness and depth to amber fragrances.
Tonka bean
Tonka bean has a warm and sweet aroma, with notes of vanilla and almond. It is often used to add a creamy and comforting sweetness to amber fragrances.
Patchouli
Patchouli has a woody, earthy, and slightly spicy aroma, often used to add depth and complexity to amber fragrances.
Cedarwood
Cedarwood has a warm and woody aroma, often used to provide a solid base note to amber fragrances.
Sandalwood
Sandalwood has a creamy and woody aroma, often used to add warmth and depth to amber fragrances.
Frankincense
Frankincense has a resinous, woody, and slightly spicy aroma, often used to add complexity and depth to amber fragrances.
Myrrh
Myrrh has a warm, earthy, and slightly sweet aroma, often used to add a resinous quality to amber fragrances.
Musk
Musk has a warm and sensual aroma, often used to add a touch of animalic and leathery depth, as well as sensuality to amber fragrances.
Is amber a masculine or feminine scent?
Amber is a fragrance note that can be used in both masculine and feminine fragrances, as well as unisex fragrances. Its warm, sweet, and resinous aroma blends well with many other fragrance notes, such as woody, spicy, and floral notes, making it a versatile ingredient in perfumery.
In general, the use of amber in fragrances is not gender-specific and can be found in a wide range of fragrances marketed towards both men and women. However, some fragrances that contain amber may be marketed towards a particular gender based on the other notes and overall composition of the fragrance.
Ultimately, the gender of a fragrance is subjective and depends on personal preference and individual interpretation. Some people may associate the warm and sensual aroma of amber with femininity, while others may see it as more masculine.
The use of amber in fragrances is therefore not limited by gender and can be enjoyed by anyone who appreciates its rich and complex aroma.
Is there an amber essential oil?
Amber essential oils are available in many drug stores and online stores, like this favorite amber essential oil on Amazon. Amber is also used in essential oil mixes, where it's mixed with other essential oils for certain benefits (we'll discuss the benefits next) and woodsy oil sets.
When consumer products contain "amber essential oil," they either contain synthetic fragrance oils or a mix of real essential oils from natural sources that mimic amber's aroma. These products do not and cannot be made of essential oils from real amber.
Read the labels carefully if you want to know what's in your products.
There is no true essential oil derived directly from real amber. This is because essential oils are extracted through steam distillation or other methods from aromatic plants or herbs. Natural amber is not a plant or an herb – it's a fossil – so it cannot be made into an essential oil.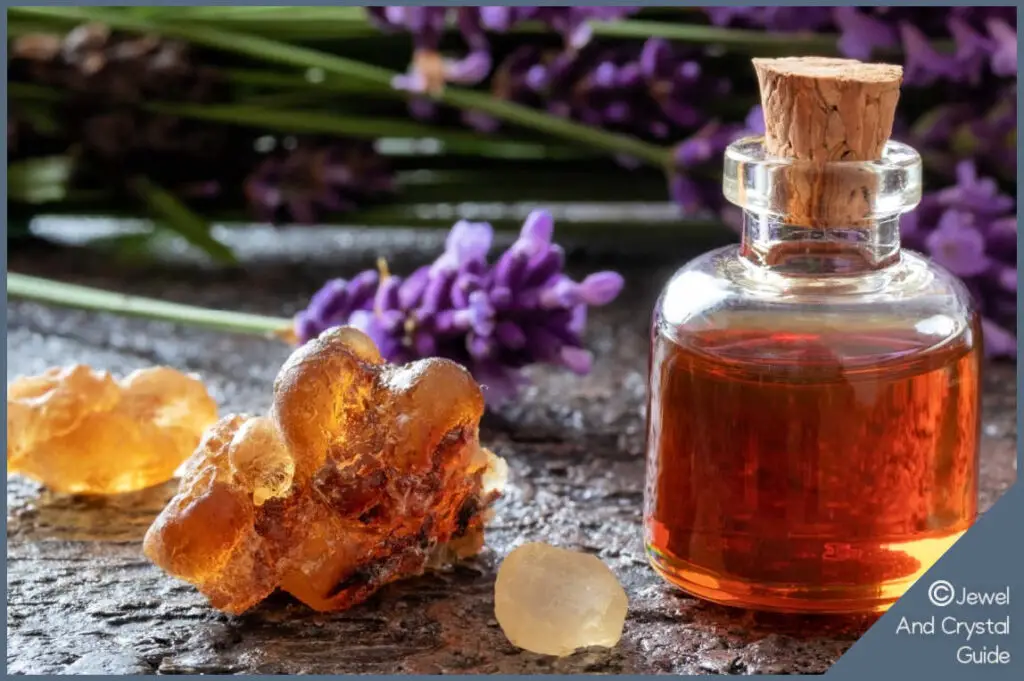 ---
That said, there are several essential oils that can be combined to recreate amber's aroma in perfumery and aromatherapy. These include vanilla essential oil, labdanum essential oil, benzoin essential oil, and some varieties of frankincense essential oil (see the list of ingredients earlier in this post).
These essential oils have warm, sweet, and earthy notes that recreate the complex aroma of amber.
7 benefits of amber's scent
Amber's scent is…
Uplifting
The warm and comforting aroma of amber can have a calming and uplifting effect on the mood, helping to reduce stress and anxiety.
An aphrodisiac
Amber has been traditionally used as an aphrodisiac, with its warm and sensual aroma believed to enhance feelings of attraction and intimacy.
Mood-enhancing
The rich and complex aroma of amber can help to enhance feelings of confidence, positivity, and self-esteem, making it a popular fragrance for both men and women.
Relaxing
The warm and inviting scent of amber can create a relaxing atmosphere, making it a popular choice for use in candles, diffusers, and other home fragrance products.
Improves sleep
The soothing and calming properties of amber's scent can help to improve sleep quality and promote a deeper, more restful sleep.
Offers spiritual benefits
Amber has been used for spiritual purposes for centuries, with its warm golden scent believed to promote spiritual growth, clarity, and enlightenment.
Improves memory and recall
Some studies suggest that the aroma of amber may have memory-enhancing properties, helping to improve focus and concentration.
The above list is for informational purposes only and is not medical advice. Please consult with a healthcare professional or a qualified aromatherapist before using any fragrance or essential oils.