Meditating with a crystal is a wonderful way to connect with and harness the stone's powers. It's very easy to meditate with amethyst, if you know what to do.
You can meditate with amethyst in 3 ways: using affirmations to ask for what you need; placing several amethysts around you to create an energy field; and/or placing an amethyst near your crown chakra as you go into a deep state of relaxation.
By the end of this post, you'll have a simple, step-by-step method to connect with and meditate with your amethyst.
Amethyst is the crystal of wisdom, stability, protection, wealth, and peace. You can meditate with it whenever you're feeling anxious, vulnerable, overwhelmed, restless, or broke. Amethyst is also good for headaches, insomnia, skin issues, and exhaustion.
It's best to meditate with amethyst once or twice a week. Regular connection with this crystal builds a strong bond and gives you greater benefits over time than only using it when you really need it.
How to meditate with amethyst
Below is a simple, calming amethyst meditation. Feel free to use this method or adapt it to what feels good to you. Let your intuition guide you and tell you what's right for you.
Set your intention
Start by setting your intention for the meditation. What do you need most from the amethyst right now?
Here are some ideas on what to ask for from an amethyst:
Protection
Peace
Wisdom
Wealth
Abundance
Love
Inspiration
Encouragement
Energy and vitality
Better skin
Better sleep
Click here for some ideas and a list of affirmations (what to say to an amethyst) to set your intention for the meditation.
Closely examine the stone
Try to get your senses involved with the crystal, to form an active connection with it for the meditation (you'll see how we do this in a little bit).
Take a good look at the amethyst while holding it up in the air and turning it around. Notice the colors, shape, patterns, and anything else unique about your crystal.
Feel the entire crystal with your hands, and smell it.
This is an important step in the meditation, even if you always use the same crystal.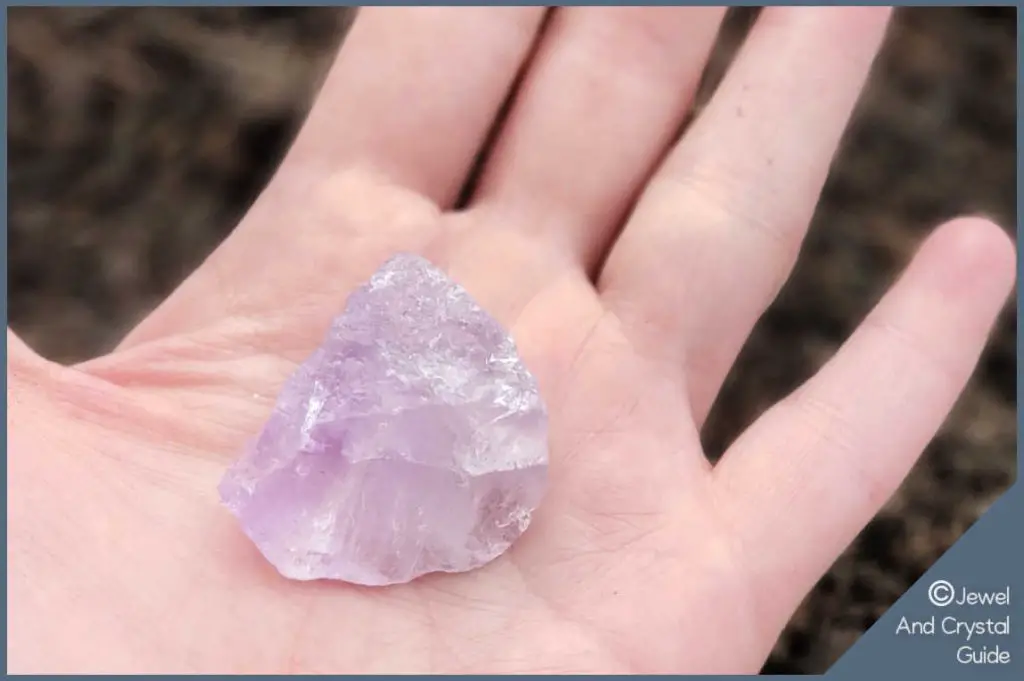 Get comfortable and place the amethyst by your crown chakra
Lie down somewhere comfortable, where you won't be interrupted. Wear warm clothes and cover yourself with a blanket if the air is chilly.
Amethyst is an important crystal for the crown chakra, at the top of your head. Put the amethyst on the floor above your head, where it is close to your crown chakra.
Take three deep breaths
Close your eyes and relax your body. Take three deep, slow breaths, counting in for five and out for five. Try breathing in and out with your tummy, so you can take in more air.
See the amethyst in your mind's eye
Picture the amethyst in your mind. Try to see it as clearly as you can floating gently in the space in front of your face. Remember the shape, feel, colors, markings, smell, and anything else you can about the crystal.
The purpose of this exercise is to open your connection and communication with the crystal, and to forget about everything around you and any worries you might have. It also prepares the crystal to hear what you want to ask for.
True connection with a crystal often takes time and practice, so don't give up if you struggle the first few times.
The more often you try to connect with your crystal, the easier it will become to recognize an "active connection". An active connection with an amethyst gives some people a feeling of warmth and light shining around the upper half of their head, including their forehead where the third eye sits.
Tell the amethyst what you seek
Once you feel connected with the amethyst, or as connected as you can be at this time, ask the crystal to bring you what you need. You can ask silently in your mind or speak it out loud.
Click here for some ideas on what to say to an amethyst.
Ask at least three times, and be very clear and specific about what you want. Don't ask the amethyst to take something away but rather ask it to bring you something.
For example, don't ask for a headache to disappear. Ask for a truly healthy body and mind. Or use one of the affirmations for headaches, such as "My forehead, jaw, and neck are relaxed".
(You could also try this amethyst face roller from Amazon to remove toxins and bring down inflammation.)
You can ask as many times as you need to, but ask only for one thing per meditation. If you ask for more gifts, you are "diluting" the request and you probably won't get the results you want.
Let your intuition guide you and stop when you feel you've asked enough times.
Thank the amethyst
There is power in gratitude. Giving thanks to your amethyst will strengthen its powers to help you, making it a wonderful friendship.
To show appreciation, whisper the words "Thank you" and feel true and absolute gratitude with your entire body. Stay in this bubble of thankfulness until you're ready to wake up from it.  
Now slowly open your eyes and rise.
Keep your amethyst in the right place
If you want to intensify the properties of your amethyst and your meditations, keep the crystal in a place that serves what you ask from it.
For example, if you're asking for wealth and abundance, keep an amethyst palm stone in your purse or with precious metals, such as real gold or silver jewelry.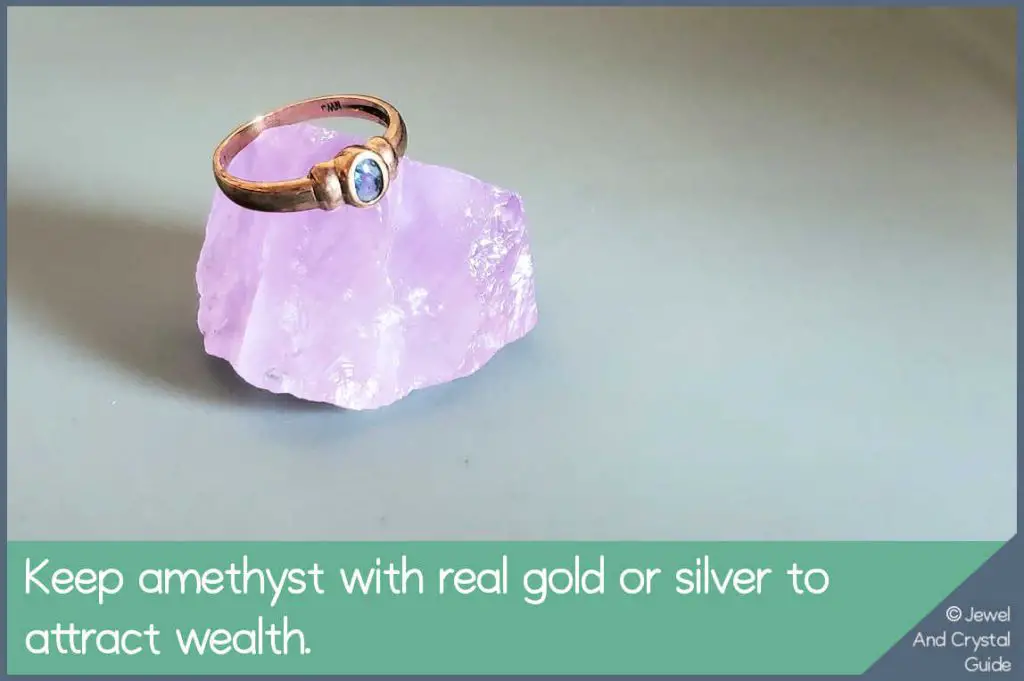 ---
Click here for a list of places to keep your amethyst and what each location will bring you (there are probably a few places you've never thought of before!)