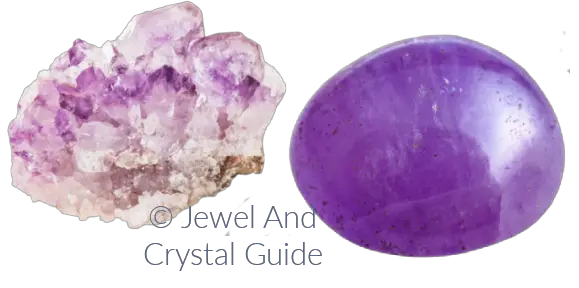 What is amethyst
Amethyst is purple quartz. It is found in large deposits underground and in rocks.
Some amethysts are a soft, light purple and others have a vibrant, royal color.
Clear or pure quartz is white or colorless. When impurities get into this quartz while it's forming, and the right conditions are present, what started off as clear quartz becomes purple amethyst.
Click here to read my article on all the reasons why amethyst is purple.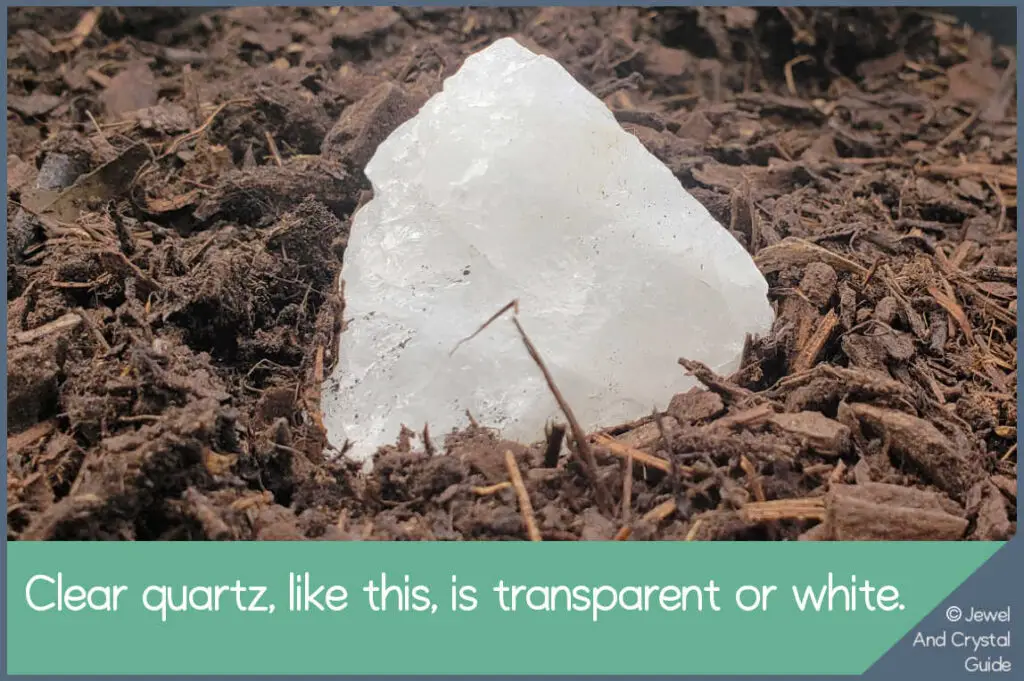 ---
Amethyst meaning
Amethyst is associated with tranquility, spiritual awareness, and inner peace. It's said to help calm the mind and reduce stress, as well as promote restful sleep and vivid dreams.
Amethyst also enhances intuition and spiritual wisdom, and connects one to their higher self or inner guide.
This purple crystal is believed to help with many physical and emotional concerns, such as headaches, insomnia, anxiety, and depression. And some people swear that it helps them to get sober and recover from addiction.
Other names for amethyst
Most amethyst is simply called amethyst, but sometimes people call amethyst something else based on where it comes from and what color it is.
Other names for amethyst include:
Lavender quartz
Lavender quartz is sometimes used to describe amethyst that has a lighter shade of purple-pink, resembling the color of lavender flowers.
Lavender quartz is rare because it's only found and mined in Bahia, Brazil.
Violet quartz
Violet quartz is amethyst with a vivid and intense shade of purple, resembling the color of violets.
The darker purple an amethyst is the more it costs, so violet quartz is very expensive.
Siberian amethyst
Siberian amethyst comes from Russia.
This type of amethyst is very beautiful and is highly prized for its deep, rich purple color, with tints of red and blue in it.
Pink amethyst
Pink amethyst is amethyst that's pink.
I know I said earlier that amethyst is purple quartz, so keep reading to find out more…
Amethyst vs pink amethyst
Some experts say there's no such thing as pink amethyst. The name "amethyst", by its very nature, means the crystal is purple.
But many people who sell crystals call pink crystals from Argentina "pink amethyst". They say that the pale pink color is a light shade of purple, so it's simply a pinkish-purple and is rightfully called amethyst.
The stones were studied and researchers agreed that these pieces are, in fact, pink-colored amethyst.
The biggest difference between pink amethyst and regular purple amethyst is the impurities that give them each color: both are quartz, but hematite makes pink amethyst pink and iron turns amethyst purple.
Click here to get a list of all the differences between these two crystals and make up your own mind.
Price of amethyst
The price of amethyst depends on a few things, like the crystal's quality, color, size, origin, and market demand.
Generally speaking, amethyst is a relatively affordable crystal compared to other popular gems like diamonds and emeralds.
At the lower end of the price range, small amethyst stones cost a few dollars per carat. These stones are often used in mass-produced jewelry or as decor
Mid-range amethyst stones, with good color and clarity, cost between $20 and $50 per carat.
High-quality, large amethyst stones with a vivid color and few imperfections can fetch several hundred dollars per carat or more.
That said, some rare types of amethyst, such as Siberian amethyst or ametrine (a variety of amethyst with yellow and orange hues), can command much higher prices due to their rarity and unique characteristics.
Where to keep amethyst
Some great places to keep amethyst are on your body, in a desk, close to doors and windows, or in the medicine cabinet.
Click here to get all my ideas on where to keep your amethyst and why.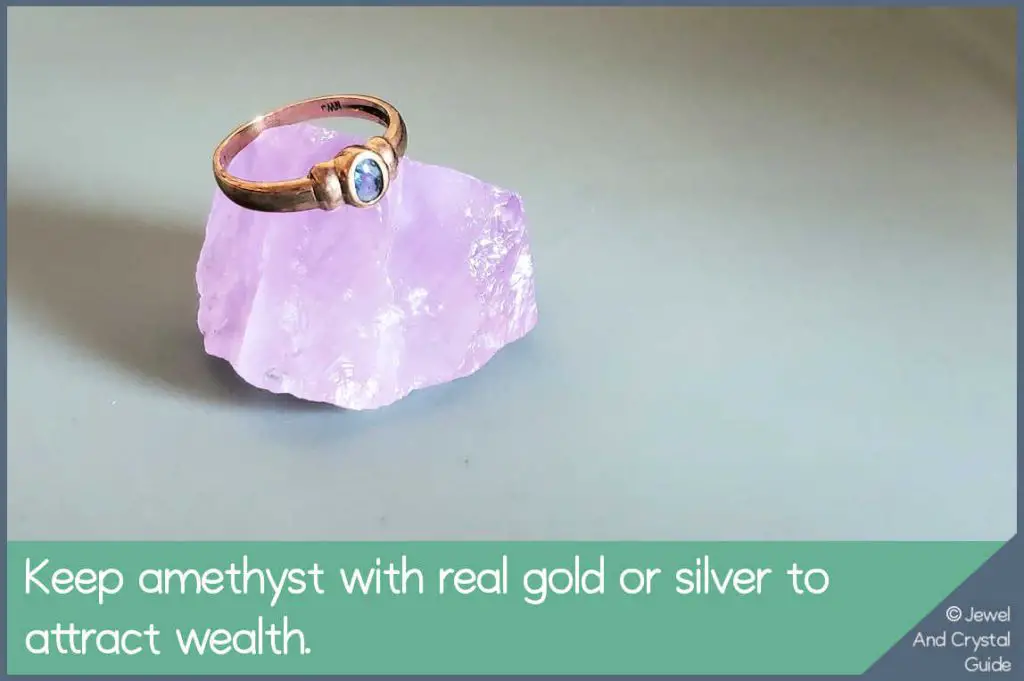 ---
Where amethyst comes from
Amethyst is found in many places across the world. Countries where the most amethyst has been found are Brazil, Uruguay, Zambia, Russia, South Korea, and the United States.
Different types and colors of amethyst are found in different countries. Here's my blog post that goes into more detail about what amethyst is found where and why. It's a great read!
How to tell if amethyst is real
All crystals can be measured on the Mohs scale to determine how hard or soft the crystal is.
Amethyst is a 7 on the Mohs scale, which is quite high.
This gives us one easy way to tell if an amethyst is real or not:
If the crystal cannot be scratched by steel (5.5 on the Mohs scale, so softer) but can be scratched with a masonry drill bit (8.5 on the Mohs scale, so harder), it's likely to be amethyst and not a glass fake.
Click here for a list of ways to tell if an amethyst is real or not.
Who should wear amethyst
While anyone can wear amethyst, Aquarius, Pisces, and Sagittarius are believed to benefit most from this crystal due to their astrological properties.
Amethyst is a birthstone for Aquarius, or those born in February. Many Aquarians are drawn to amethyst because it enhances their intuition and spiritual awareness.
Here's a list of what each zodiac sign gets from wearing amethyst.
Sleeping with amethyst
Some people keep amethyst near their bed or under their pillow for relaxation, restful sleep, and spiritual growth. Amethyst calms the mind and emotions, which reduces stress and gives the room a peaceful feel.
Here's my blog post on why you should think about sleeping with amethyst and how to do it the right way, so you get the most from your crystal.
How to activate amethyst
There are many ways to cleanse and energize amethyst. Some of the best ways are to use what Mother Nature provides: soil, sunlight, water, and wind.
Simply place the amethyst where one or more of these elements will come into contact with it, then let the elements remove old energy and bring in new power.
To find out all the ways to cleanse and charge an amethyst and how to do each one, hop over to this blog post that I published on the topic.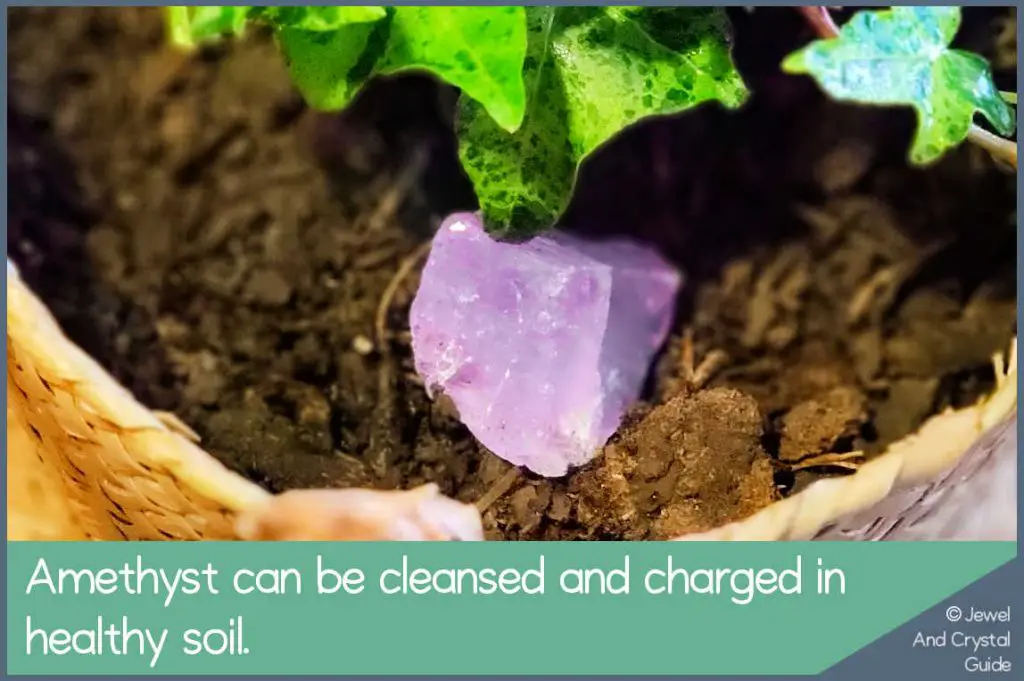 ---